Description
Product Description
Milk separator
It is a special equipment for separating milk. Its main component is a high-speed rotating separator with many separating cups and plates. When the milk flows through the gap between the cup and the tray, under the action of centrifugal force, the cream with different specific gravity is easy to skim and be discharged separately, achieving the separation effect.
The disk separator is a key machine used by medium and small dairy companies to separate butter. It is suitable for processing about four tons of fresh milk per day. The separated skimmed milk can be processed into casein, cheese, milk tofu, milk bumps, milk treasures, etc.; the cream can be eaten directly or further processed into butter (cream) by an oiling machine. When the separation requirement is not high, the fresh milk does not need to be heated, when the requirement is high, the fresh milk needs to be heated to about 40°C.
Main Specification
| | | | | | | |
| --- | --- | --- | --- | --- | --- | --- |
| Model | Capacity (L/H) | Inlet pressure | Outlet pressure | Motor power( Kw) | Weight (kg) | Dimension |
| SYN360 | 2000-5000 | 0.05 | 0.1-0.35 | 7.5 | 1200 | 1500*1150*1500 |
| SYN470 | 5000-10000 | 0.05 | 0.1-0.4 | 15 | 1600 | 1800*1200*1800 |
| SYN550 | 10000-20000 | 0.05 | 0.1-04 | 22 | 2300 | 1850*1550*2050 |
| SYN616 | 25000-35000 | 0.1 | 0.3 | 37 | 3300 | 2050*1700*2300 |
* Solid-liquid separation
* Liquid-liquid separation
* Liquid-liquid-solid separation
Structure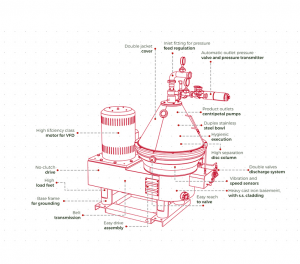 Application
Dairy separator: used for milk skimming or milk clarification (removal of solid impurities). The small separator is driven by hand and is used for manual slagging, which is suitable for farmers and herdsmen in pastoral areas; the large separator is used for industrial production and is driven by electricity. The slagging method is manual slagging or ring valve slagging.
Mineral oil separator: It is used to remove water and mechanical impurities from mineral oil such as fuel oil, diesel oil, lubricating oil and transformer oil, and can also separate similar emulsions.
Vegetable oil separator: used for the processing and refining of vegetable oil.
Animal oil separator: used for refining animal fats in meat processing, or used for concentration and separation of fish oil in aquatic processing.
Yeast separator: used to concentrate yeast and discharge slag from nozzles.
Starch Separator: Used for removing protein from starch and concentrating starch, and discharging slag from nozzle.
Lanolin Separator: It is used in wool spinning industry to extract wool grease from wool washing water and discharge slag from nozzles.
Pharmaceutical disc separator: used in the extraction of antibiotics, vitamins, etc. in the pharmaceutical industry, and also suitable for the separation of liquid-liquid-solid three-phase mixtures in pharmaceutical and chemical production.
Beer separator: used for clarification of beer, wort and other beverages.
Latex separator: used to concentrate and remove impurities in rubber latex.
Paint separator: used to separate impurities in paint and improve the quality of paint.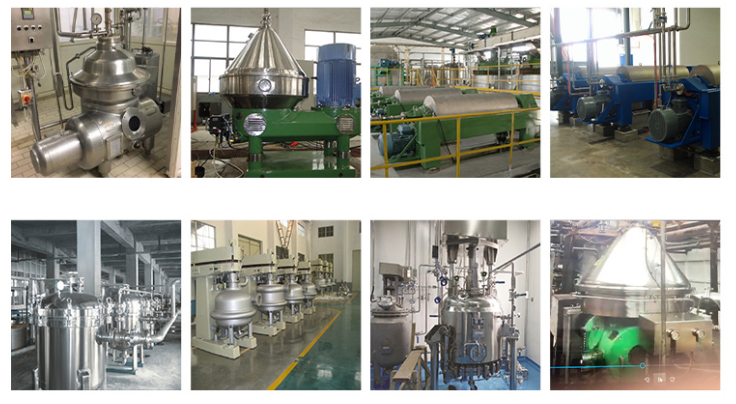 Packing,Storage,Handling and Transportation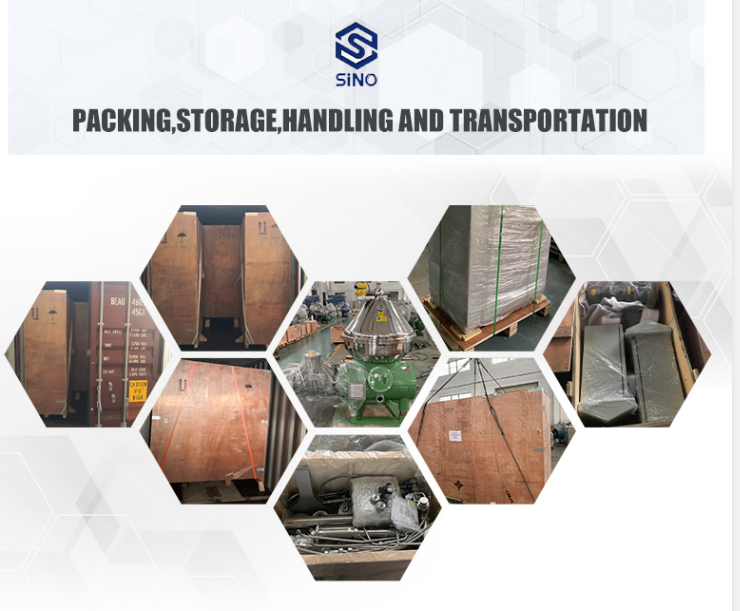 Certificate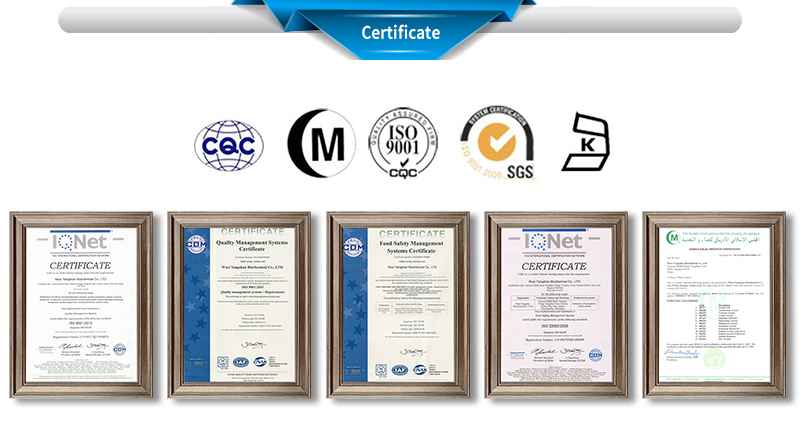 FAQ
Product Warranty:
The guarantee period is 12 months from the date of putting the equipment into operation, but not more than 15 months from the date of delivery.
Free service within warranty:
During a warranty period of exploitation the Seller undertakes to execute warranty service of the equipment, troubleshooting and replacement of out of service spares, except for breakings, bound with incorrect exploitation of the equipment by the Buyer.
Set-up and adjusting of the equipment
After receiving the delivered Goods, the Buyer is obliged to prepare, obtained equipment and applicable lodgment for its installation. Then in written form to inform the Seller on readiness of the equipment for chief- equipment installation, start-up and adjusting.
If necessary,The Seller should send enough technical specialists to help execute the chief – equipment installation, start-up and adjusting equipment on the sight of the Buyer.
Export Packing
The Goods are to be shipped in export packing suitable for the type of goods to be delivered. Packing is to protect the Goods against any damage or corrosion when the Goods are transported by sea or by railway and to provide for possible transshipment of the goods on the way to the place of destination and for a long storage of the goods.
Contact
Vivian Deng
Celll/Whastapp:+86 18040529186
Email:[email protected]