Description
Product Description
Marine separators are mainly used to remove water and mechanical impurities in the fuel (light diesel, heavy diesel, fuel oil) and lubricating oil of marine diesel engine equipment to reduce the wear of mechanical equipment and extend the life of mechanical equipment; the separator is separated Heavy diesel oil can be used instead of light diesel oil, thereby greatly reducing production costs.
Equipment characteristics:
The design, manufacture and acceptance of the equipment comply with GB/T5745-2002 "Marine Butterfly Separator";
The operation is stable, and the vibration value is far lower than the value specified in the national standard;
The materials are all made of stainless steel, which effectively reduces the corrosive effect of separated materials.
Main Specification
| | | | | | | |
| --- | --- | --- | --- | --- | --- | --- |
| Model | Capacity (L/H) | Inlet pressure | Outlet pressure | Motor power( Kw) | Weight (kg) | Dimension |
| SYN360 | 2000-5000 | 0.05 | 0.1-0.35 | 7.5 | 1200 | 1500*1150*1500 |
| SYN470 | 5000-10000 | 0.05 | 0.1-0.4 | 15 | 1600 | 1800*1200*1800 |
| SYN550 | 10000-20000 | 0.05 | 0.1-04 | 22 | 2300 | 1850*1550*2050 |
| SYN616 | 25000-35000 | 0.1 | 0.3 | 37 | 3300 | 2050*1700*2300 |
* Solid-liquid separation
* Liquid-liquid separation
* Liquid-liquid-solid separation
Structure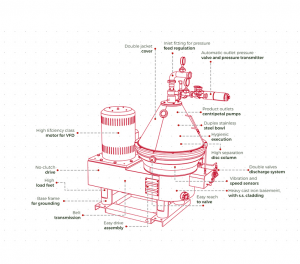 Application
Hot sale in the Separation of vegetable oil, biodiesel, glycerin, catalyst, crude oil ,soap, methanol methyl washing, extraction of fatty acids, glycerol desalination,starch, diary, animal oil, beer,beverage, biological, pharmaceutical, vegetable extraction, chemical, wast oil, mineral oil,marine…etc.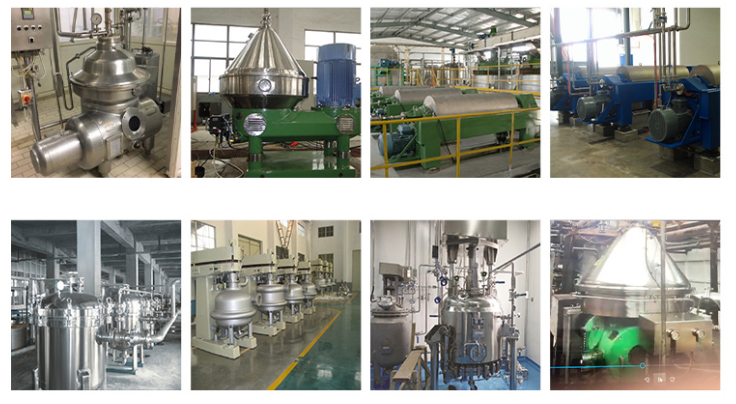 Packing,Storage,Handling and Transportation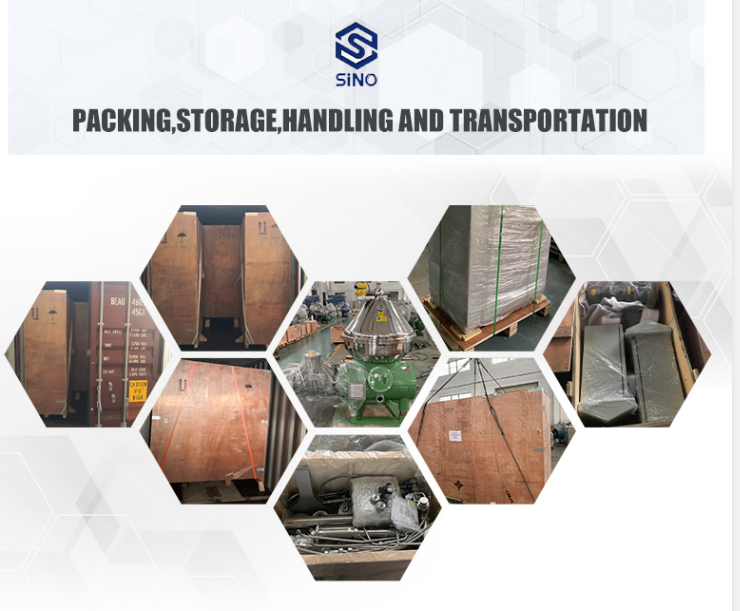 Certificate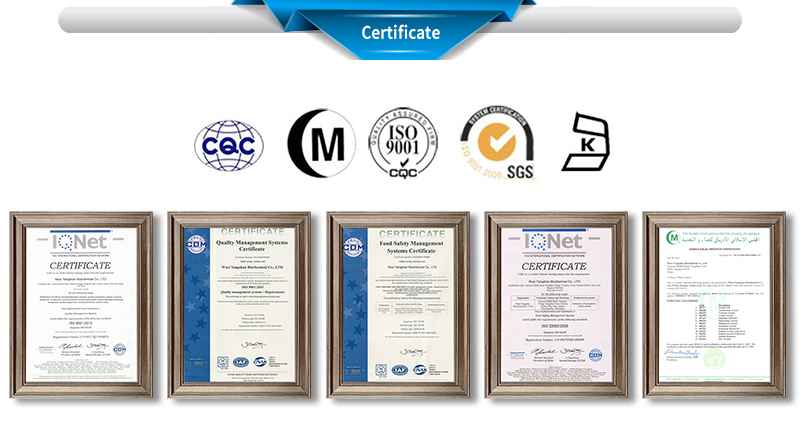 FAQ
Product Warranty:
The guarantee period is 12 months from the date of putting the equipment into operation, but not more than 15 months from the date of delivery.
Free service within warranty:
During a warranty period of exploitation the Seller undertakes to execute warranty service of the equipment, troubleshooting and replacement of out of service spares, except for breakings, bound with incorrect exploitation of the equipment by the Buyer.
Set-up and adjusting of the equipment
After receiving the delivered Goods, the Buyer is obliged to prepare, obtained equipment and applicable lodgment for its installation. Then in written form to inform the Seller on readiness of the equipment for chief- equipment installation, start-up and adjusting.
If necessary,The Seller should send enough technical specialists to help execute the chief – equipment installation, start-up and adjusting equipment on the sight of the Buyer.
Export Packing
The Goods are to be shipped in export packing suitable for the type of goods to be delivered. Packing is to protect the Goods against any damage or corrosion when the Goods are transported by sea or by railway and to provide for possible transshipment of the goods on the way to the place of destination and for a long storage of the goods.
Contact
Vivian Deng
Celll/Whastapp:+86 18040529186
Email:[email protected]